I absolutely love dressing up for Halloween. In the past I have dressed up as The Mona Lisa, a bubble gum machine, an astronaut, a 'Who', a pumpkin, a ghost, a 50's girl with a red poodle skirt, the Angel Moroni, a fairy, poison ivy (the plant — Scott was my infected, itching victim) and a clown (as seen on my first post).
Usually I start thinking about my costume months in advance. I was going to be Rapunzel from Tangled this year, but because my shoulder and arm are still recovering from an injury, I decided on something less ambitious. Here are my fabric finds for this year's Halloween project. The blue sequined knit and the blue tulle are from Hancock Fabrics. I also originally chose a green organza but decided it was too pricey and then I found this satin green fabric for a mere $2 a yard at Denver Fabrics. Score!!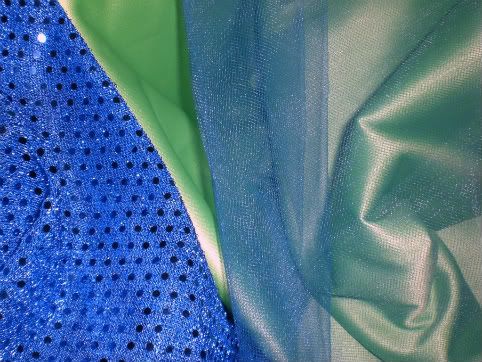 Can you guess what I'm going to be this year? Hint: Scott will be donning his fishing gear.