Most of you shorties can share this similar experience:
Your jeans are all worn out and winter is around the corner, so you head to the store in hopes of finding some new ones to cover your legs. You walk in and pick a pair off the rack, just your size, try them on and they fit great everywhere, they even make your tush look good…………….except they're WAY TOO LONG!!!!!!
Disappointed for the four thousandth time you:
1. consign yourself to the fact that no pair will ever fit your legs perfectly. You buy the jeans and within a month of dragging on the ground those sloppy looking slacks are frayed and shredded.
2. buck up, buy the jeans, and cuff them. "Ha ha! These jeans don't fit but I have a solution…..I shall cuff them!" And so you walk out into the world, stopping every few hours to re-cuff your jeans so they won't drag in the dirt.
3. throw a mental temper tantrum, you know, the typical, "Woe is me! I am shortest short there ever was and therefore cannot ever have decent fitting jeans." You walk out the door empty-handed.
There is a better way, gals! Hem those suckers. Your jeans will last longer if they're not dragging on the ground and they will look much, much better when hemmed. Trust me. I went all through high school and part of college fighting with my jeans because I refused to hem them. I thought if I hemmed them, everyone would notice that they didn't have the cool washed denim jean hem look.  I would be un-cool and unloved.
A year ago, I hemmed some Aeropostale flares with thread the same color as the jeans. Nobody asked me if they'd been hemmed; nobody stared at them. They didn't look tacky.  The only thing I noticed was that I could finally wear flats on my feet because I wasn't worried about the edges of my jeans dragging all the way up the hill to campus. It was a beautiful thing.
If you really are stuck on the gold-stitching look of ready-to-wear jeans, you have a couple of options. Cut your jeans a little above the desired length and then
re-attach the original hem
. Make it and Love It shows you how to do it with a great tutorial,
here
. This works best with boot cut jeans because the leg is the same width farther up.
Or, you can hem your jeans with gold-colored thread. Try your jeans on, mark where you want them hemmed, then add 1 1/8 inches to the length. Cut them off, fold up 1/2″ then 5/8″. Stitch 1/2″ from the edge with a longer stitch length of 3 to 3.5. If you want the stitching to look a bit 'weathered,' rough it up with some sandpaper.
If you can't sew, have a tailor hem your jeans. It's a simple fix and shouldn't cost more than $10-15.
Here are some hemmed examples, below. I've included some khakis for comparison.
Left to right: 
Ann Taylor Signature Fit Khakis, thrifted, $6, size 2
Aeropostale 'Hailey' Skinny Flare, $16, size 1/2
Calvin Klein Low Rise Flare, thrifted, $6, size 4
These were hemmed with the stitching 1/2″ from the edge, as I explained above. The pair in the middle was stitched in the same color as the jeans. The pair on the right was stitched in gold thread.
~~~~~~~~~~~~~~~~~~
Ready-To-Wear Petite Jeans
Okay, let's say you don't want to go through the hassle of hemming your jeans. If you're not super short compared to your pants size, petite jeans might be just the ticket. Find a store you like that carries jeans in 'short' or 'petite' sizes. If you're not in the mood to pay a lot, try Target or Old Navy. If you're willing to pay a little more, Express and Ann Taylor Loft have a great petites section.
I personally love,
love
Ann Taylor Loft
Original Bootcut Jeans. I find them to be shorter than other 'petite' sized brands. They are super comfortable and durable. (I used to buy my short jeans in the little girl's section of a department store that has since gone out of business. They were super-thin and I had to replace them often.) They run around $60 but I pay $35-40 by watching sales or getting them on Ebay.  I tried on a pair of Express's petite jeans last spring and
loved
them.  They were super soft…but I couldn't plunk out $90 (not on sale at the time), so I didn't take them home with me.
Here is a picture of my favorite petite jeans….LOFT original boot cut jeans: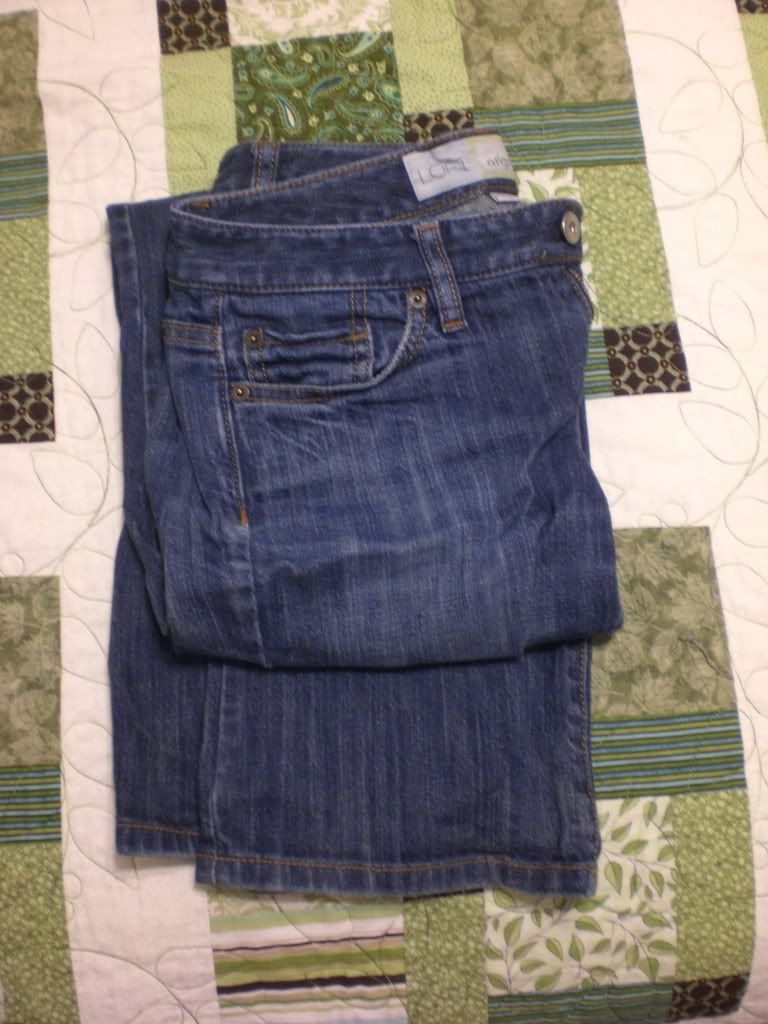 **Remember: Bootcut styles are best for petites. A pair of jeans (or slacks) that are straight in the leg will elongate your figure. Washed out styles will make you look wider; dark-washed jeans will make you look taller and thinner.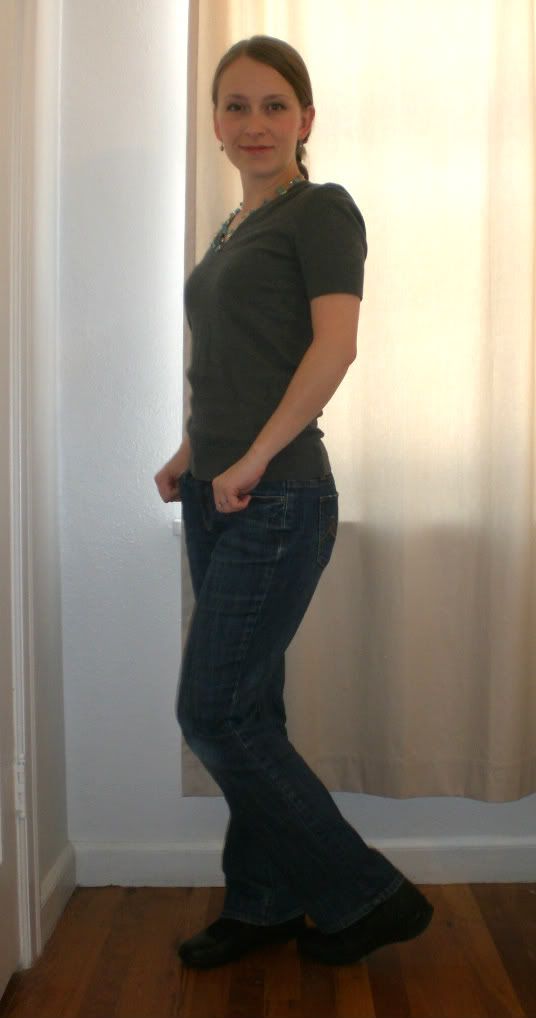 Do you have experience hemming your slacks?  Do you have a favorite petite jean you'd like to share below?  Let me know what works for you.