Last night and this morning, I cranked out this easy little number, New Look 6895 with a paisley rayon challis. I got it at Denver Fabrics for around $4 a yard in the clearance section. Yes, I am addicted. I rarely find myself inspired by prints at other stores in the Denver area.
I usually don't go for loose-fitting blouses because I get lost in them but I couldn't resist this pattern. I made view 'E', blouse with a crew neck, and used the sleeves from view 'C'. Thanks to all of the helpful reviews of this pattern on patternreview.com I had a good idea of what alterations would be necessary before I even set out.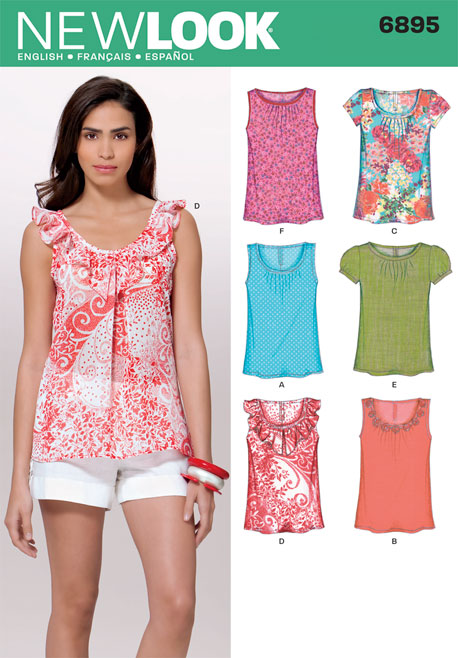 Several people complained that the neckline was too wide and would fall off their shoulders. To fix this problem, I took the pattern in 1 1/2 inches at center front and added 1 1/4 inches width to the shoulder seam. I also took the pattern in at center back and opted to place the pattern on the fold instead of having a center back seam. I made a petite adjustment at the waist and moved everything up 1 1/2 inches. Some ladies also said that the pattern was too large at the waist so I cut out a size 8 throughout, instead of tapering to a 10 at the waist. It sounds like a lot of adjustments but when you don't have to deal with darts or button plackets or princess seams it makes everything SO much easier! The pattern was so easy that I only glanced at the instructions a couple of times.
I'm really pleased with how the neckline turned out. The binding was surprisingly easy to put in and I got it right the first try. I used my rolled hem foot to finish the edges of the sleeves and hem of the blouse. Sometimes the pattern will tell you to wait 'til the end to finish these babies off, but if you're afraid it will fray like I was, do it first thing.
Yay!! Now I have another blouse I can wear without an undershirt. I'll be able to wear it in any season. I'm thinking of upcycling a pair of brown slacks into a belt to go along with my new blouse.